Gas Tank Exploration
Have you ever noticed that your fuel gauge seems to go down more rapidly for part of your tank than it does for other parts? Like, you don't seem to travel as far on the last 1/4 tank as you do on the first 1/4 tank? (Yes!) Why might that be?
Assume that a fuel tank has a shape like this:
<![if !vml]>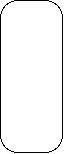 <![endif]><![if !vml]>

<![endif]>
Talk about ways to measure how much of a tank is left.
One common way is to have a "dipstick" going from top to bottom that is twisted and has a float that turns the dipstick as it floats atop the fuel and the fuel's level goes down (or up). In this case, the "twist" can be constant along the length of the stick.
Then ask about how that system fails to work for tanks shaped like above, but which are "slanted" in the car as shown below.
<![if !vml]>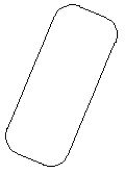 <![endif]> <![if !vml]>

<![endif]>
The dipstick with constant twist will be wrong. Talk about how to compensate for situations like this. (Adjust the amount of twist per unit of length along the dipstick.)